Fixed Gas Detection Specialists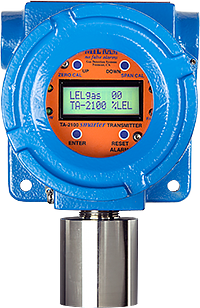 Gas Detector Networking
Gas Detector Network Practices
Fixed gas detectors, for many years, have been field wired to control systems utilizing analog connections; DC power and Signal (4-20mA). In some cases, the analog connection is loop powered whereby power and signal are provided on the same pair of wires. In other cases, a 4-wire type connection is used where the power and signal are carried on separate wires. Many other process devices have traditionally utilized similar analog type wiring.

One of the limitations associated with analog systems is exhanging information (including diagnostics) between the PLC and field devices. Modbus is one of the oldest fieldbuses on the market. It was first developed in 1979 by PLC manufacturer Modicon (today Schneider Electric). The Modbus protocol has proven very reliable using a Master/Slave (or Client/Server) multidrop, serial (RS-485 typical) Network architecture. Modbus variants, including Modbus TCP/IP, extend implementation over Ethernet Networks. Simplicity of implementation and inherent reliability led to widespread acceptance of Modbus industrial automation Networks. Over time, many other industrial protocols (Profibus, Hart, Ethernet, Devicenet, etc.) have been developed to meet the continuing demand for data exchange over a Network topology, deploying a wide variety of different field automation devices. Modbus, however, continues to be widely utilized and claims a very large and successful installed base over many years. Field proven performance has validated the functional reliability of the Modbus architecture under a wide range of industrial operating conditions.

Mil-Ram offers a comprehensive line of Modbus enabled Gas Detectors (SEE LIST of Model TA-2100 Gas Detectors) and Control Systems (SEE Digital Control Panels). The Gas Detectors can be interconnected to plantwide Modbus Control Systems (PLC) or Mil-Ram Control Panels. All Mil-Ram Panels are also designed to interface with existing plant Control Systems (analog or digital). The addition of Wireless transceivers at the field devices and Control Sytem provides transparent wireless communications with elimination of connecting wires. Mil-Ram also provides various Modbus enabled Network devices including Alarm Stations and Relay Modules that can be conveniently installed anywhere on the Network as needed.


List of Gas Detectors
Modbus Controllers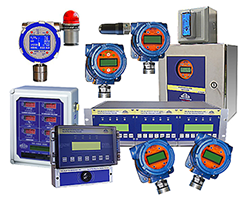 Our Mission

Committed to providing solutions that meet the varied and demanding needs of Industrial Gas Detection
Gas Detection Instruments & Systems